Niagara-on-the-Lake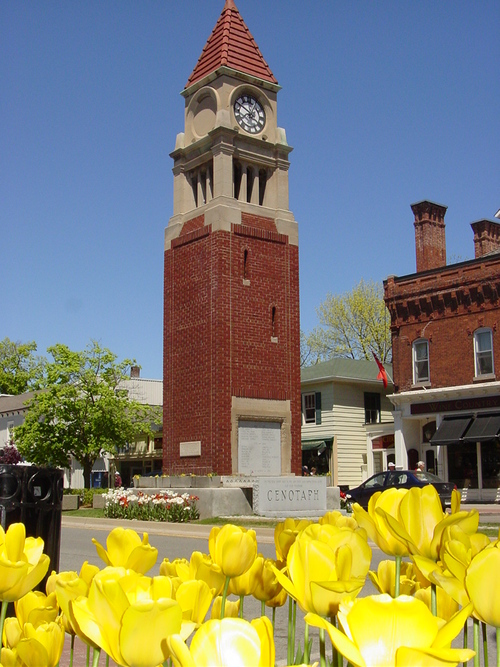 The original area was a Neutral Nation village known as Onghiara. In 1781 the British government established Butlersburg, which later became known as West Niagara. Many of the first white inhabitants were loyalists, loyal to Britain, who fled during and immediately after the American Revolution.

In 1792 the village was incorporated as the Town of Newark and was named the capital of the Province of Upper Canada. The town lost that distinction to York (now Toronto) in 1797, as Newark's proximity to the United States presented a danger. The town was renamed Niagara in 1798.

During the War of 1812, American forces invaded Canada, and captured (and later destroyed) the town before they withdrew following their abandonment of captured Fort George. The British rebuilt the town, however, and today it has retained much of its historical charm. The present name was adopted around 1880 as a Postal Address to distinguish the town from Niagara Falls.

The name was not officially adopted until 1970, when the Town of Niagara and the Township of Niagara were merged.





Return To History


---

The content of our business and attraction directory appears by courtesy and
generous assistance of the lodging owners of this website. Please view our
Niagara-on-the-Lake Business and Attraction directory author credits page


Featured Lodgings

FINLAY HOUSE



Finlay House, a charming B&B celebrating theatre and wine, come and visit for a while!



BRITALY
BED AND BREAKFAST



2010,2011,2012 2013 & 2014Tripadvisor Travellers Choice Award Winner



WILLIAM'S RETREAT



Old Town Location - A Real Treat with large private garden opposite a park - Accommodates 6 people



HISTORIC WILSON-GUY HOUSE



details details details



JOHN'S GATE GOURMET
BED AND BREAKFAST



Service! Gourmet Breakfasts! Specials!